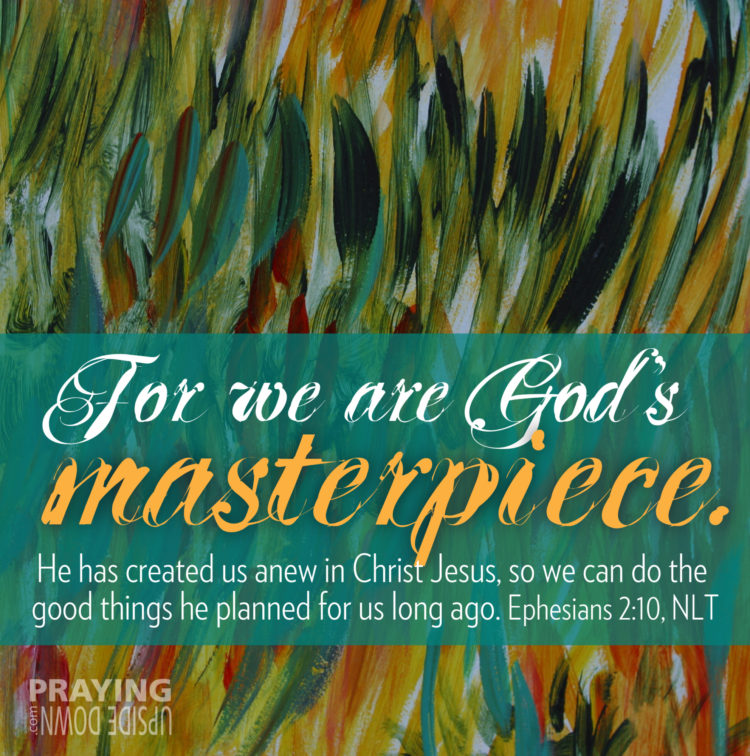 God's Masterpiece
"My grace is sufficient for you, for my power is made perfect in weakness." 2 Corinthians 12:
If you're anything like me, sometimes you look at the people around you — pastors, Bible study leaders, friends who faithfully have 5 am quiet time — and feel absolutely, positively certain that you don't measure up. It's like looking at the giant canvases on a museum's walls. Even if we don't understand them, we know that they put to shame our meager scribbles. So much so that sometimes it's easier not to even try. Not to risk failing. And certainly not to tape our measly little drawings on the wall next to the masterpiece.
I'm writing a book on prayer, and people I know have started to treat me as an "expert." A pastor from another church sat down to ask me questions about the Holy Spirit, about how to know when you hear from God. Acquaintances send me private Facebook messages requesting prayer. Friends ask advice about how to get unstuck. I've had lovely, spontaneous conversations in coffee shops and on the street. People who want more. Whose desire for God, whose hunger to grow closer — or, maybe, just to make sure they're not praying wrong (which is impossible, by the way) — prompts them to blurt out questions when the discussion turns to prayer.
I feel honored and grateful, but undeserving of such trust. Sure, I'm writing a book, but I have doubts, too. I sometimes forget to pray. Petty thoughts, cynicism and past hurts get in my way. I am quick to judge and jump to conclusions. I mess up on a daily basis. But here's the truth: Living life as a Christian is not about our weaknesses, but His strengths.
Several months ago at church, we sang an old hymn. "Through it all… through it all… I learned to trust in Jesus, I learned to trust in God." I bowed my head in sorrow, because I knew I'd failed miserably to lean on Him through the three years Mom fought cancer — and the two years I've had to live on this earth without her. All that time, even though I knew it would be impossible to get through it on my own, I pushed Him away.
I'm so sorry, I thought-prayed.
And then I pictured my God. Giddy with excitement, like a little child bouncing up and down, eager to see how his mom adores the gift he's about to give her. He exclaimed, "BUT I GOT TO SHOW YOU GRACE!"
Got to. He didn't have to. But He gave it anyway. With joy. For the first time I truly understood. God's grace is freely, unconditionally given. A gift that is so much sweeter when you know you didn't earn it.
So no more comparing myself to the people around me. Instead, I'm learning to look straight at the Artist who makes all things beautiful. The One who doesn't care what my scribbles look like — because in His eyes, as long as I make them for Him, He sees a masterpiece.
How about you? How has God taught you about grace? What have you discovered? Where in your life can you give yourself grace?