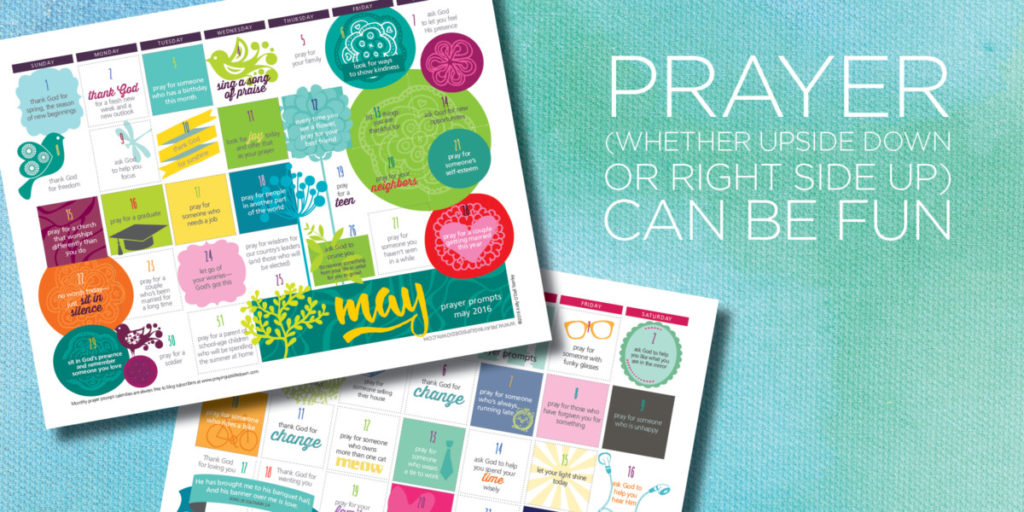 Since most of what I do can be found at the place where art, prayer, and writing intersect (and because I have a particular knack for being a workaholic and never leaving my computer), I have lots of free resources to offer to you—prayer prompt calendars, note cards, alphabet prayer cards, and so much more.
All of these are always free. You just have to type in your email address to download, and that adds you to my newsletter mailing list. To make it easy for you to get the new prayer prompt calendars, I send out a newsletter near the end of each month with a link to the new one. You can unsubscribe at any time, but I do hope you'll stick around a while.
P.S. You will have to enter your email address every time you download, but don't worry—you won't be added to my mailing list more than once!
I'm having issues with my downloads plug-in, so please email me if you aren't able to download what you need. Sorry for the inconvenience!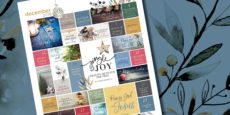 December 2018 Prayer Prompt Calendar
My friend Jodie Barrett's Advent devotional is designed to help busy women find meaning in this season by praying beneath the tree. I used her prompts to create a perpetual calendar (to be used every Dec.). Forgive me for breaking format for this one month only but I wanted to share with you :-). Check out her devotional and her ministry page.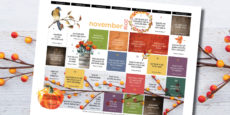 November 2018 Prayer Prompts
The Psalms are known for giving voice to our fears, our worries, our hopes, and our praises. This month, for Thanksgiving, let's give thanks together—with prompts inspired by specific Psalms. (Verses are included if you want to read the psalm that inspired each prompt.)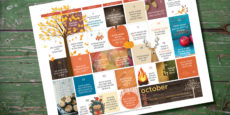 October 2018 Prayer Prompt Calendar
Sorry to be somewhat predictable, but I just can't do calendars during the fall without embracing the gorgeous colors of autumn in the Midwest! So this month, pray for someone who drives you nuts… for the apple that didn't fall far from the tree… for a lover of pumpkin spice, and more fall-themed prompts.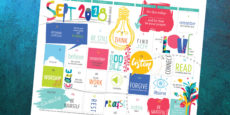 September 2018 Prayer Prompt Calendar
Prayer is not a substitute for action (but both are important). Rather than just sitting quietly this month, join us in offering these activities to God as your prayer.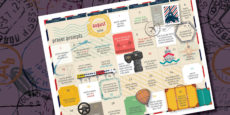 August 2018 Prayer Prompt Calendar
I created the August calendar right before a trip to Malta, so I was in the mood for travel and exploration and adventure… because even when we don't get to go anywhere, prayer can take us on quite an adventure! Enjoy!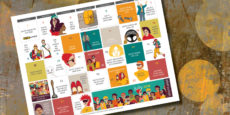 July 2018 Prayer Prompt Calendar
The Bible tells us to pray for one another… to pray about everything… to pray for our enemies… to pray without ceasing. Yet so often we don't know who to pray for. Open your eyes this month and pray for a variety of people all around you.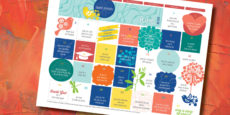 June 2018 Prayer Prompt Calendar
June is a month typically full of brightness and warmth, a refreshing change for those of us in the Midwest who recently came through a long, cold winter. Celebrate summer with these colorful prayer prompts. Copy and paste this link if download doesn't work: https://kellyostanley.com/wp-content/uploads/2018/05/June-2018-Prayer-Prompt-Calendar-1.pdf Let's pray!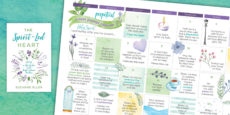 Spirit-Led Heart Perpetual Calendar
Tune in to the power of the Holy Spirit. These prompts are based off content in Suzie Eller's newest book, The Spirit-Led Heart. Use this calendar anytime, or again and again, by simply praying for the prompt at that day's date.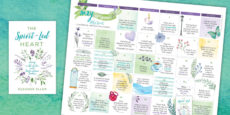 May 2018 Prayer Prompt Calendar
The gift of the Spirit isn't something for a select few—it's a treasure that we can open again and again, every single day. Let the Holy Spirit lead you through the month with prayers inspired by Suzie Eller's new book, The Spirit-Led Heart. Downloads plug-in isn't working so copy and paste this link until we can get it fixed—sorry! Spirit Led Heart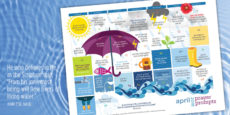 April 2018 Prayer Prompt Calendar
April showers bring May flowers… Often, we have to try to find the positive, because rain and storms have negative connotations—but the truth is that water is life-giving. Pray with me this month for rivers of living water and for other prayers inspired by the ideas of water and rain.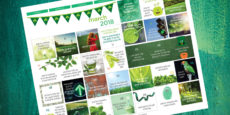 March 2018 Prayer Prompt Calendar
This Irish lass couldn't pass up a chance to celebrate her favorite color. Even if you're not Irish (or not a fan of this lovely hue), you can still let your prayers this month be guided by all things green. If you're in a cold part of the world, think of this as a sunny little preview of spring!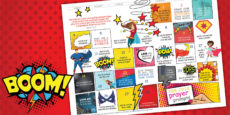 February 2018 Prayer Prompt Calendar
Valentine's Day is in February, so let's talk about love… because God is the author and definition of love, and although He's compassionate, gentle, generous, and kind, He is also strong, mighty and powerful—the One "who is able to do exceedingly abundantly above all…" (Eph. 3:20-21). Use this superhero-themed calendar to infuse your prayers with power.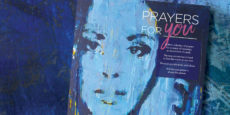 Prayers for You ebook
A short collection of prayers for a variety of moments, an assortment of needs. Because sometimes it's hard to find the words on our own. Because you are never, ever alone.
And because prayer is always the answer.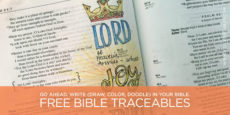 Bible Journaling "Traceables"
Trace these into your Bible or journal to illustrate verses from Week 8 of Designed to Pray—even if you've never done "Bible journaling" before. Great way to meditate on a verse.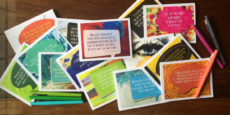 Notecards
Set of 14 printable notecards featuring quotes from Praying Upside Down. Print onto letter-size card stock, cut in half and fold. (Cards fit into A2-size envelopes.) Or just print and hang up for inspiration.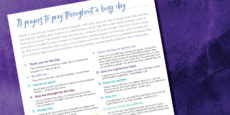 "20 Prayers" printable
Tuck these simple prayers into your journal or post on your fridge to help you get through the day.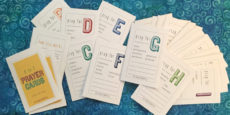 A to Z Prayer Cards
Whether you're praying with a young child learning her alphabet, or you just want to broaden your prayers, this set of printable prayer cards provides suggestions to get you started—and leaves room for you to add your own.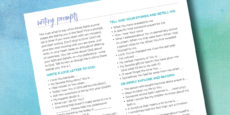 Writing Prompts
Pulled directly from my book Praying Upside Down, here is a handout of prayer writing prompts for you to use in your journaling.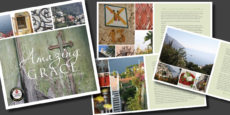 Amazing Grace e-book
I've paired some of my favorite photos of Positano, Italy, with the essay I wrote while visiting there. The essay won the Writer's Digest Inspirational Writing contest and chronicles this trip—in which I went far away in order to find my way home.
Wallpaper Downloads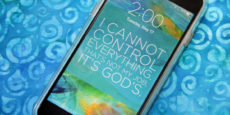 "I Cannot Control Everything"
This website and its content are copyright of Kelly O'Dell Stanley | © Kelly O'Dell Stanley 2018. All rights reserved.

Site design by 801red