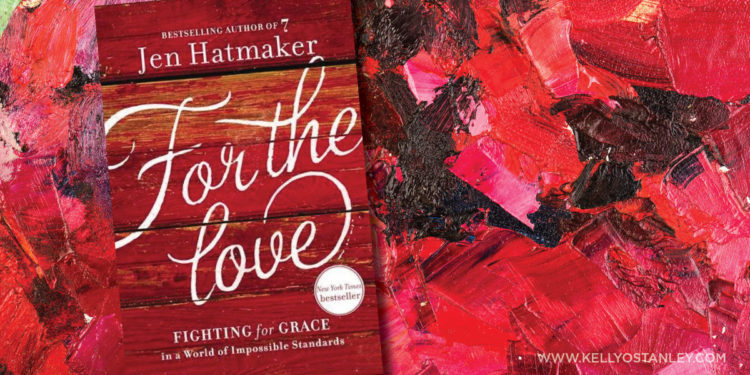 For the Love by Jen Hatmaker
As part of my Branch Out Reading Challenge, I chose as my pick for January ("a best-selling Christian book, something new and/or popular") For the Love by Jen Hatmaker.
Just from reading her blog and various other things, I knew I loved her. And I'm excited that she is one of the big-name speakers for the new Women of Faith tour, Belong. (In case I haven't mentioned it—ha—my new book, Designed to Pray, is being published by Tyndale and Women of Faith for that tour.) Shamefully, though, I had not yet read any of her books. But now I have, and so should you. Because A) she gets it. She gets all of it—motherhood, being a wife, writing, struggling, loving Jesus, being real. And B) she may be the funniest person on earth. I exaggerate not.
I realize she's a few years younger than I am, but I want to be her when I grow up. Besides her amazing talent for writing and speaking, she also has great style and loves food.
I read a review once that criticized this book, saying it was too light and fluffy—the reviewer wanted to read about how to live as a Christian, not discuss yoga pants or leggings. I disagree. I would argue that there is room for both, and in all of my favorite friendships, we can easily segue from one topic into the other and back again, seamlessly. When I read this book, I found depth in the more theological thinking, the stories of how to live this life and share it with others and not beat ourselves up—and relief when, for a few pages, the topics got lighter and she made me laugh. As a writer, I've often said that I write to make myself known, because then others will reciprocate and open up. But this time, I got to experience that from the other side. Reading this book made me feel known and understood. Jen spoke truth to this phase of my life, both as a mom and as a writer.
Besides, even from the very first page, you can see that she is not all about herself. Her endorsements are purposely not from celebrities, but from her readers (with qualifications like "introvert, blogger, Jesus-follower, lover of free swag" and "harmonica collector, embracer and contributor of awkward situations, guacamole lover"). Jen is kind of a big deal, but she doesn't act like it. You gotta like that about a person.
There is no way I can include all of the nuggets that I will carry with me, so I'm going to include a few of the sections I underlined from the first few chapters. (On a side note, recently I gave a copy of a book I was reading to my friend Vickie. She brought me a new book later that day to replace it, but kept mine, because her favorite part were the notes and underlines I made. So that's sort of what I'm sharing with you here today.) 🙂
"Folks who thrive on God's grace give grace easily, but the self-critical person becomes others-critical. We 'love' people the way we 'love' ourselves, and if we are not good enough, then no one is… [God] is good at being God. Hooray! We don't have to be saviors and critics for each other; we're probably better as loved people beside one another. We aren't good gods, but we can be good humans."
"I fretted and agonized and vacillated before I remembered to pray. (I am a delightful choice for your spiritual advisor, yes?)… People will take as much as you will give them, not because they are terrible humans, but because they only want this one slice of you. It doesn't seem like much to them. On paper, it's just that one thing, that one night, that one commitment. Plus, you're probably good at their pet thing. But they don't observe the scope of your life and all the other tricks on your beam. They just want that one dip/scoop/lean, but only so many tricks fit into a day… Gracious noes challenge the myth of Doing It All. When I see another woman fighting for her balance beam, I am inspired because if she has permission, then I do too. Wise women know what to hold onto and what to release, and how to walk confidently in their choices—no regrets, no apologies, no guilt."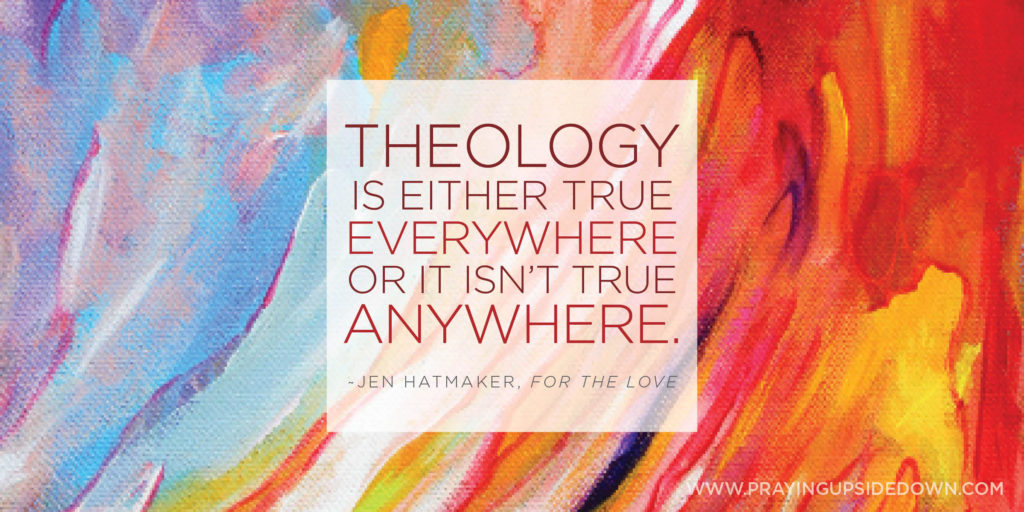 "Theology is either true everywhere or it isn't true anywhere. If it isn't also true for a poor single Christian mom in Haiti, it isn't true… We get to labor over our "calling" because we are educated and financially stable, so many of us eschew the honor of ordinary work and instead fret over the perception of wasting our lives….Your career may not involve 'Christian-sanctioned' labor, but that doesn't mean you aren't walking in your calling… Every goodness God asked us to display is available to you today. Through ordinary work, people can be set free, valued, and changed, including yourself. God's kingdom will not come in any more power elsewhere than it will come in your life today."
"God created an entire package. It all counts. There are no throwaway qualities. In fact, those qualities might point you in just the right direction. Nothing is wasted: not a characteristic, preference, experience, tragedy, quirk, nothing. It is all you and it is all purposed and it can all be used for great and glorious good. Maybe your best thing won't draw a paycheck, but it is how you shine and glow and come to life and bless the world."
"The best I offer the world is the truth—my highest gift. What the world does with it is not up to me. I am not in charge of outcomes, opinions, assessments. I am not in the business of damage control. When I present a fabricated version of myself—the self who knows it all, is ever certain, always steps strong—we all lose, because I cannot keep up with that lie and neither can you."
She has some great, down-to-earth parenting advice ("The best parents can have children who self-destruct, and the worst parent can have kids who thrive." And "Popularity is a terrible goal, because you have to lose yourself to find it.").
And she recognizes the life-sustaining value or good friends. "It's tricky, this new online connectivity, because it can become meaningful and true; it has given way to actual friendships I treasure. But it can also steal from friends on porches, the ones who truly know you, who talk about real life over nachos. Online life is no substitute for practiced, physical presence, and it will never replace someone looking you in the eye, padding around your kitchen in bare feet, making you take a blind taste test on various olives, walking in your front door without knocking." She also says, "Nothing can happen—no tragedy, no suffering—that cannot be survived through the love of God and people. This is holy territory: a loyal friend on the other end of the line, a companion on your doorstep holding King Ranch chicken casserole because sometimes that's all there is to do. When you say to me, 'I will see you through this,' I can endure. Between God's strength and yours, I have enough. We are not promised a pain-free life but are given the tools to survive: God and people. It is enough."
And to top it all off, she includes a recipe for Beef Bourguignon that includes an entire bottle of pinot noir. Which I'm making tonight. And which, as she promised, smells heavenly. Wish you were here to eat it with me and tell me all about whatever you read this month! Will you tell me anyway? (Even if you just read one chapter. Even if you didn't like it. This is a guilt-free zone.) Looking forward to reading about the books you read (or didn't) in the comments below.
---
On February 1st, I'll share my selection for February and offer some choices for you to consider.