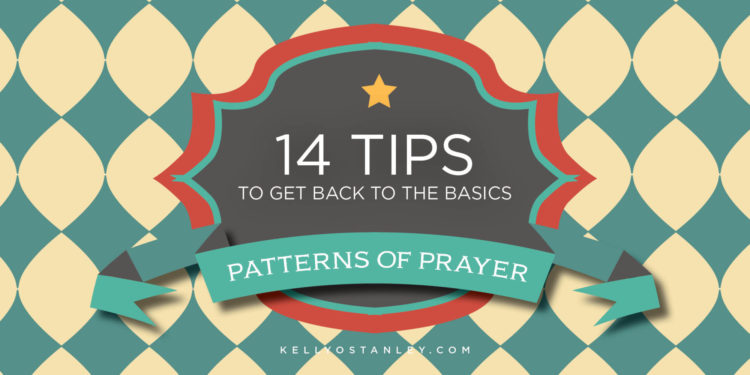 Patterns of Prayer
Graphic design doesn't have to be complicated. Sometimes the best designs come from careful placement of color. From simple, common shapes placed or repeated in an interesting way. From ordinary colors paired with a surprising twist.
Same goes for prayer. We don't have to reinvent the wheel every time we come to God. We don't have to learn new, intricate ways to approach God; study for long hours; know just the right words and have just the right quiet time in our schedules. We don't need to agonize over what to say and how to say it. We don't have to fear that we're not innovative enough, that He will get bored with us, or that He will fail to hear. Prayer is successful when we, quite simply, do it. You probably know more than you think you do, but I thought I'd share 14 simple, easy tips to remind you that prayer really can be this simple.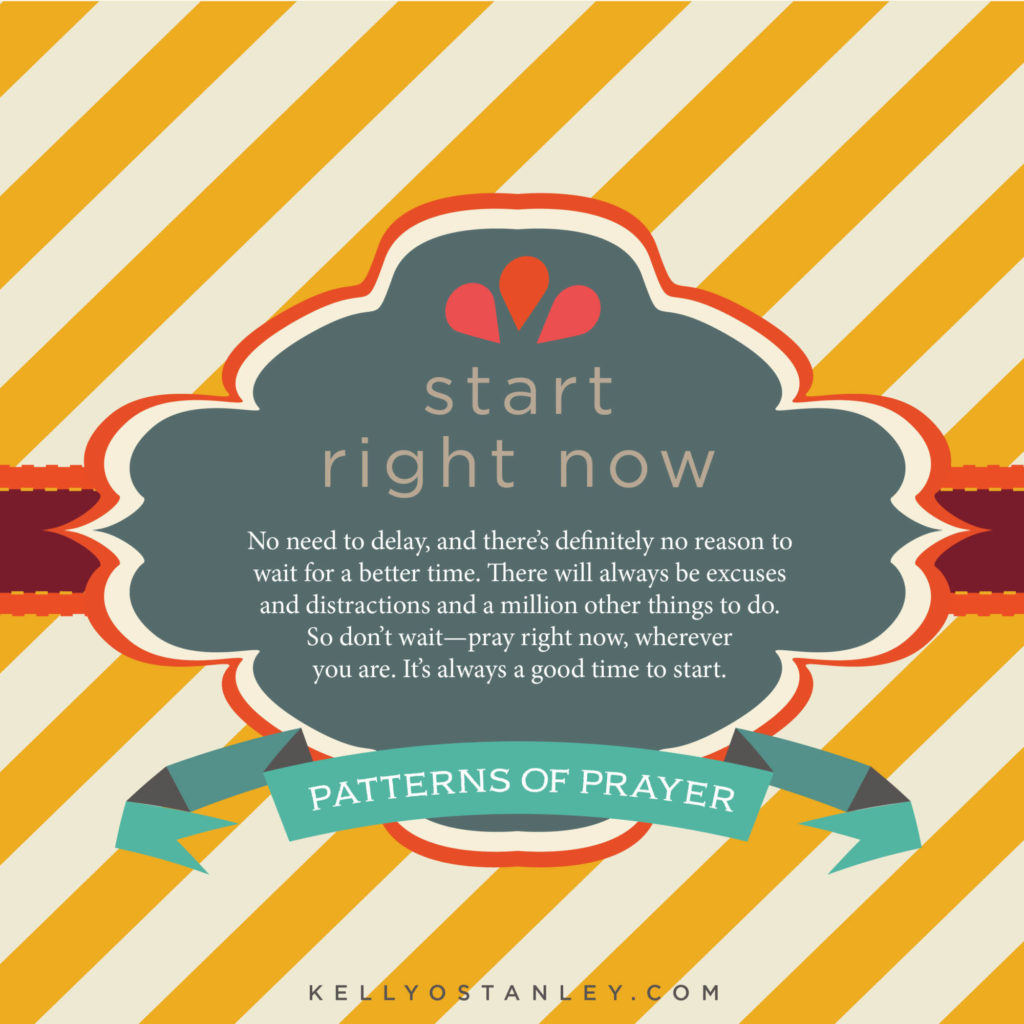 start right now. No need to delay, and there's definitely no reason to wait for a better time. There will always be excuses and distractions and a million other things to do. So don't wait—pray right now, wherever you are. It's always a good time to start.
What are you hoping to do better this year? What can you do to establish a strong foundation to build on?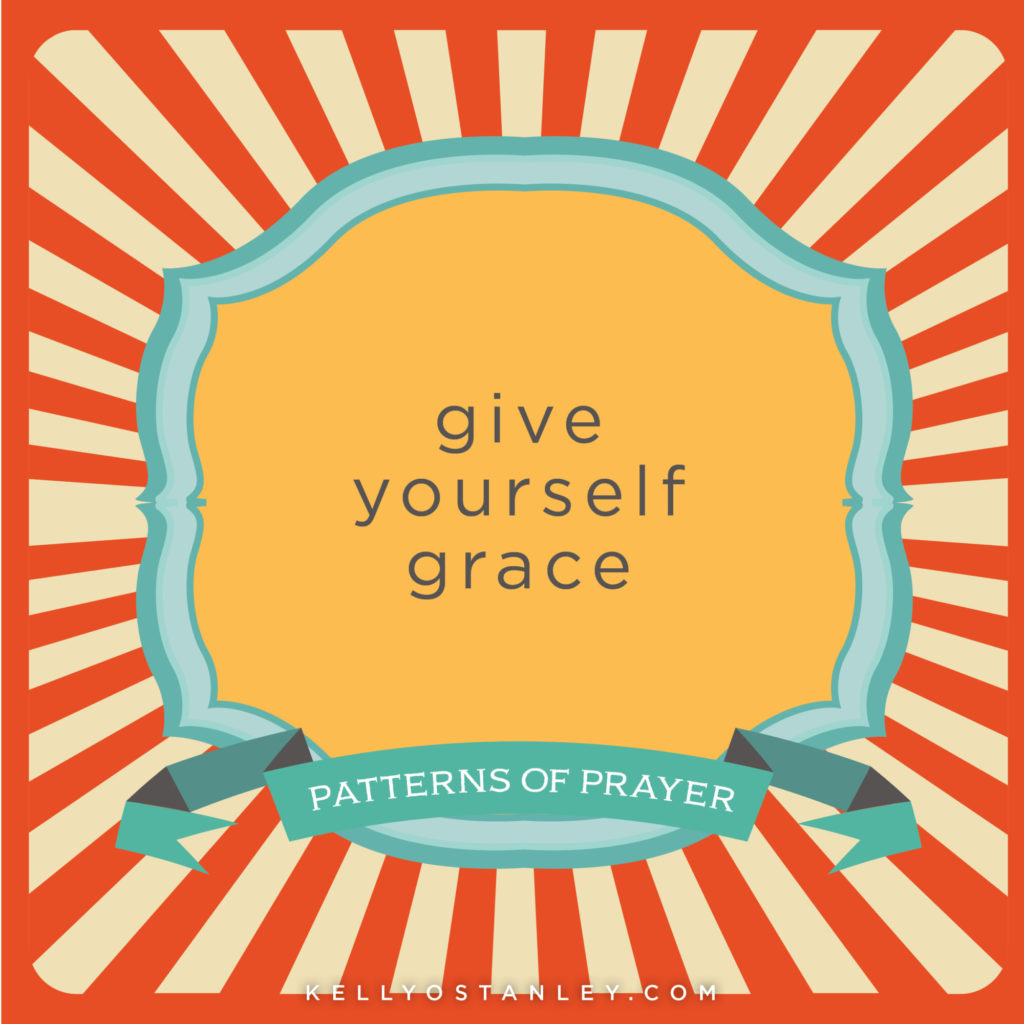 give yourself grace. One of God's greatest gifts to us is His grace. He doesn't want to beat you up for all your failings—He just wants you to turn to Him. To have a relationship with Him. Allow yourself to accept this gift and simply spend time in His presence.
Do you struggle with this? You're not alone.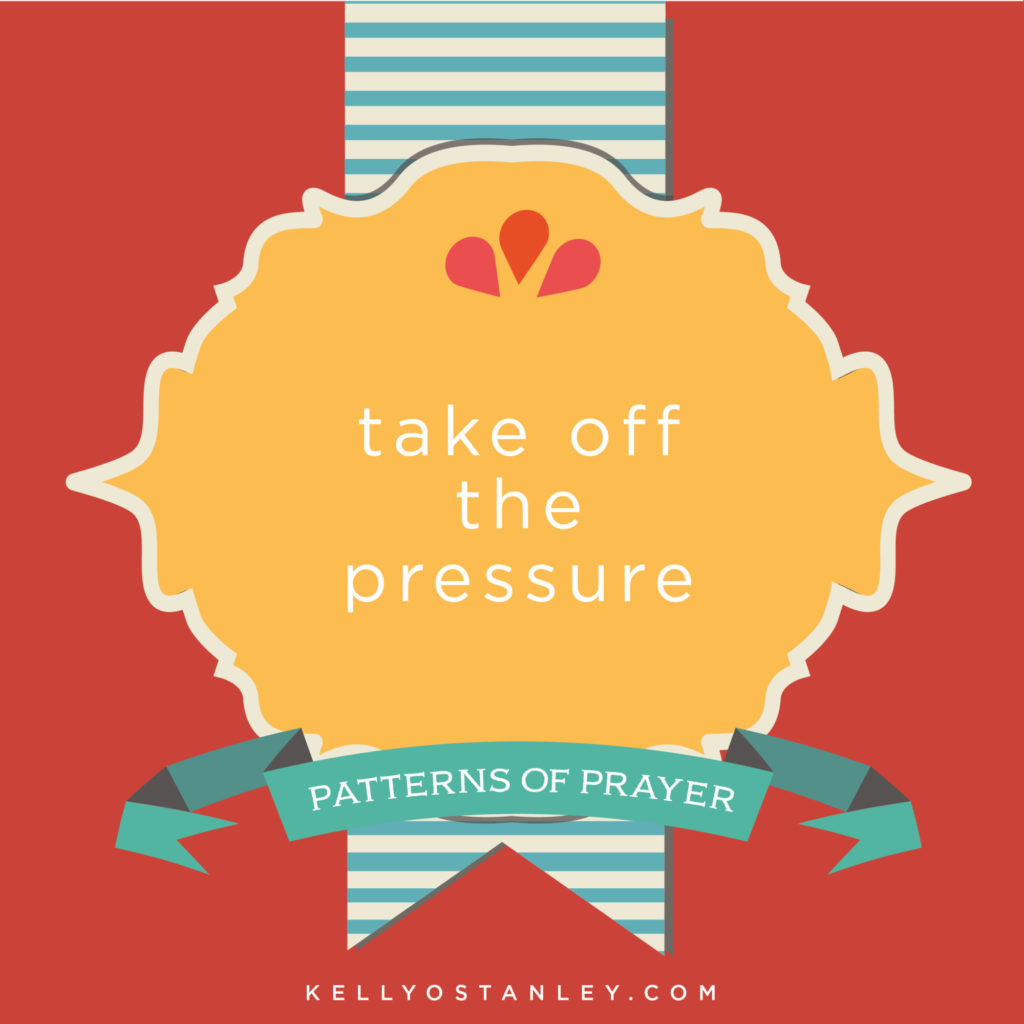 take off the pressure. Stop keeping track of how much you pray and how little. (Remember: give yourself grace.) God doesn't want to pressure you into spending time with Him. He wants you to choose to be with Him because you want to.
The world puts plenty of pressure on us; you don't need to add to that in your prayer life. What is one way you can remove some of the pressure you feel in your daily life?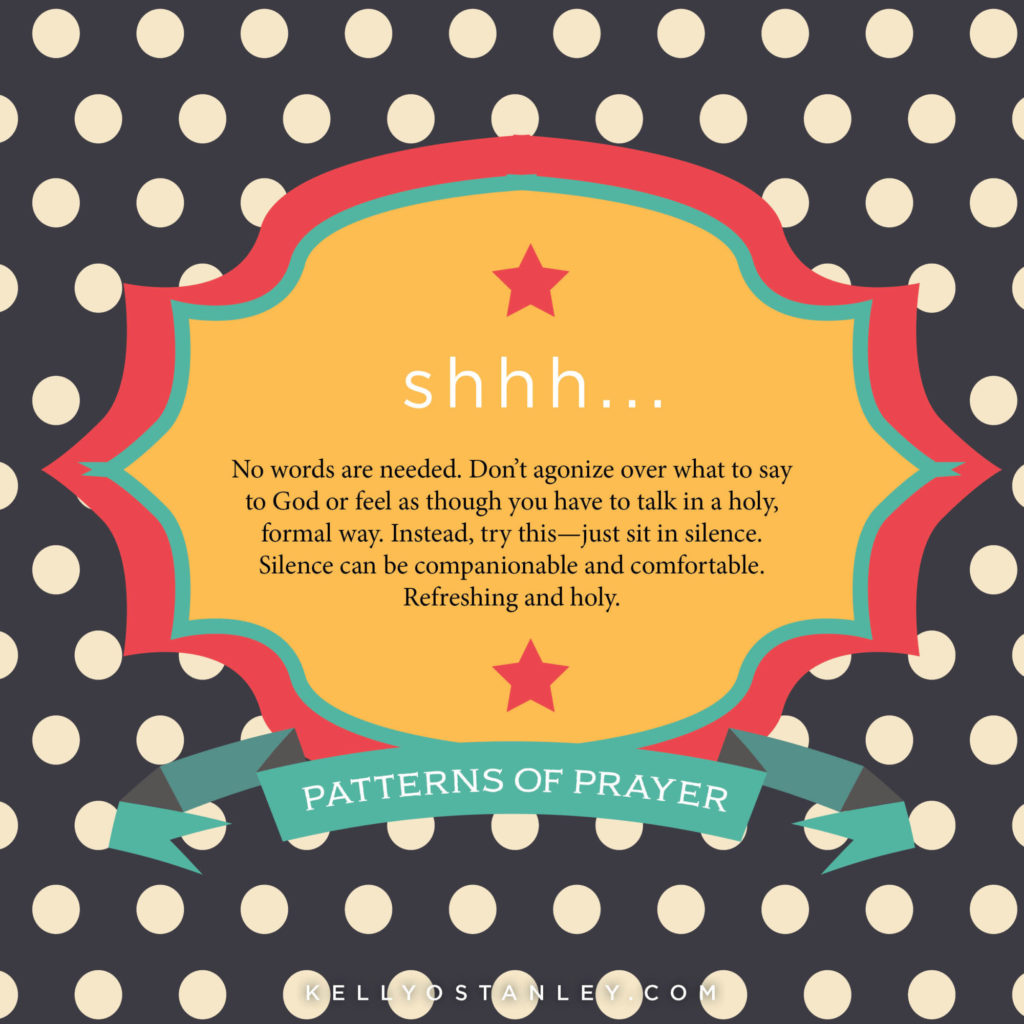 shhh… No words are needed. Don't agonize over what to say to God or feel as though you have to talk in a holy, formal way. Instead, try this—just sit in silence. Silence can be companionable and comfortable. Refreshing and holy.
Have you ever "heard" from God when you simply slowed down and listened?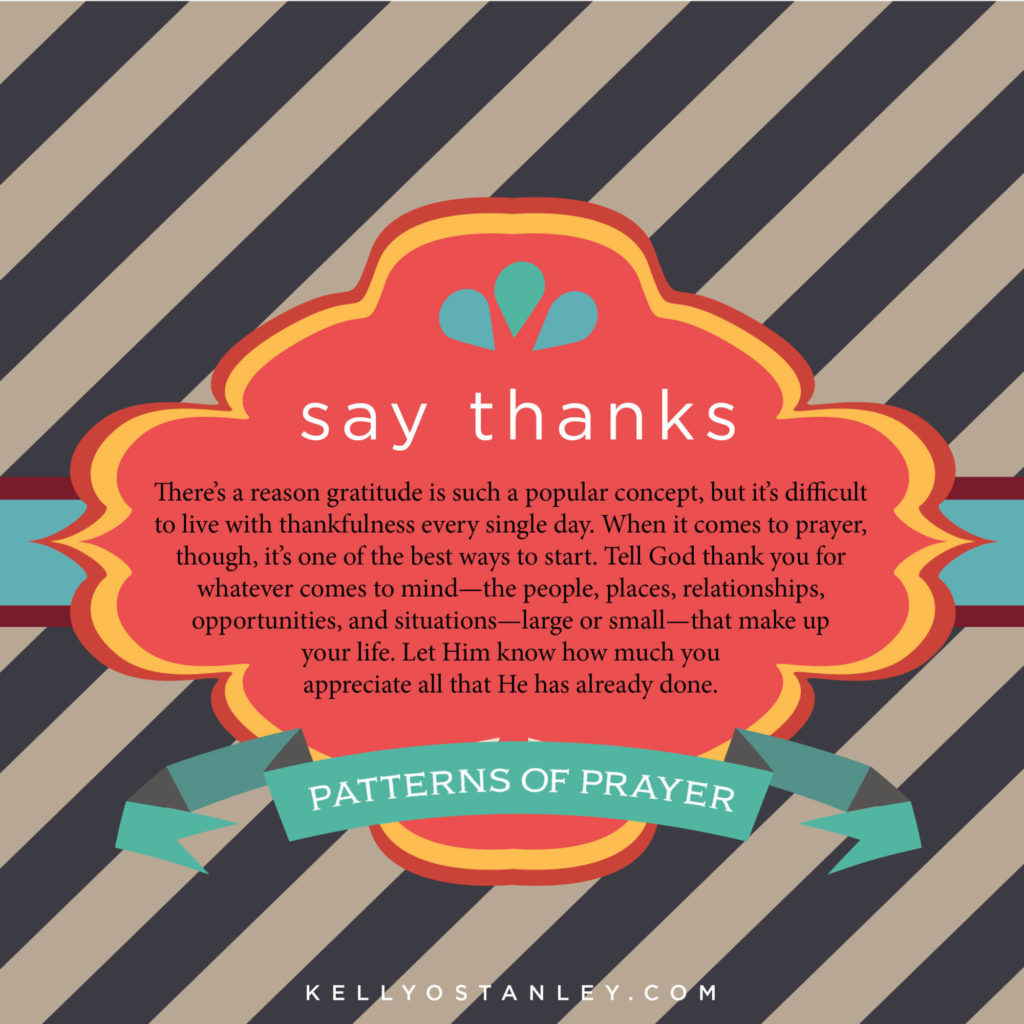 say thanks. There's a reason gratitude is such a popular concept, but it's difficult to live with thankfulness every single day. When it comes to prayer, though, it's one of the best ways to start. Tell God thank you for whatever comes to mind—the people, places, relationships, opportunities, and situations—large or small—that make up your life. Let Him know how much you appreciate all that He has already done.
There's always something else to notice, something else to thank God for. What are you thankful for today?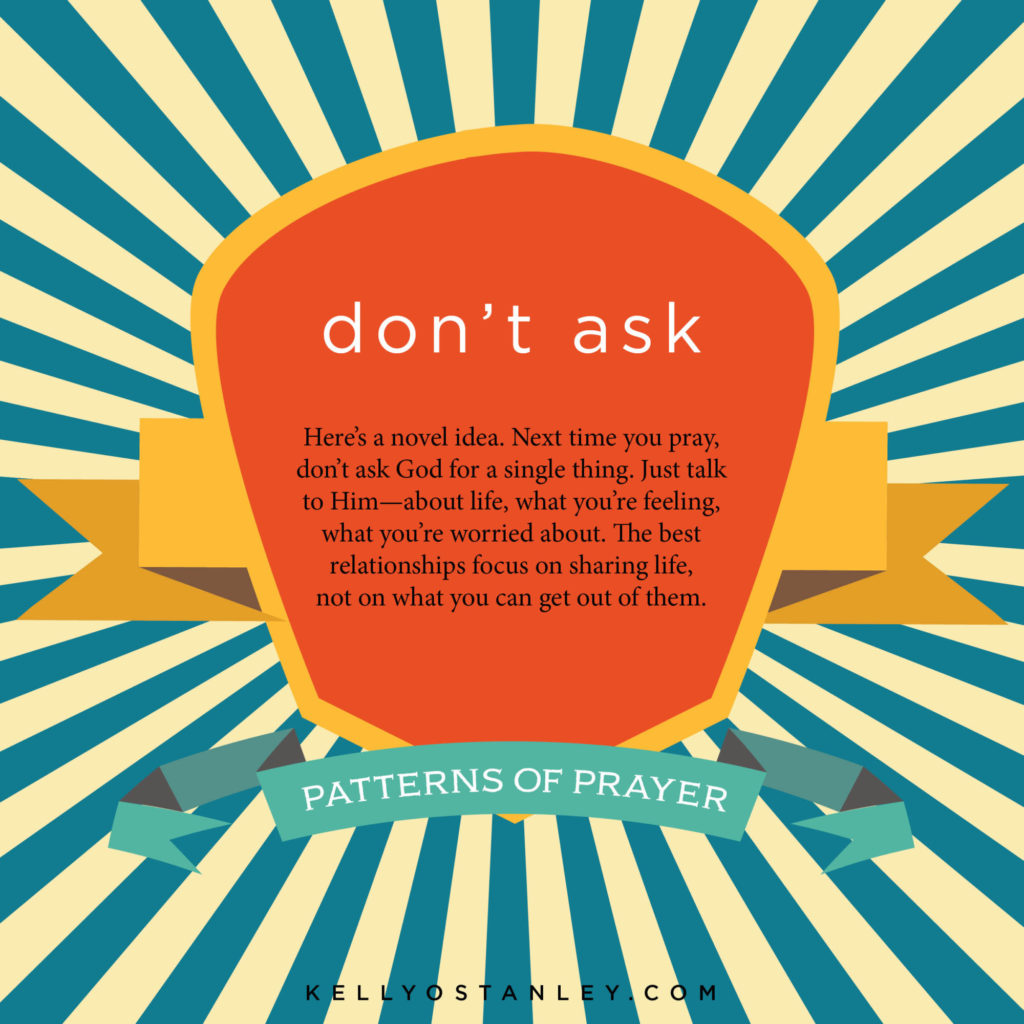 don't ask. Here's a novel idea. Next time you pray, don't ask God for a single thing. Just talk to Him—about life, what you're feeling, what you're worried about. The best relationships focus on sharing life, not on what you can get out of them.
Do you find it hard to simply spend time with God without asking for something?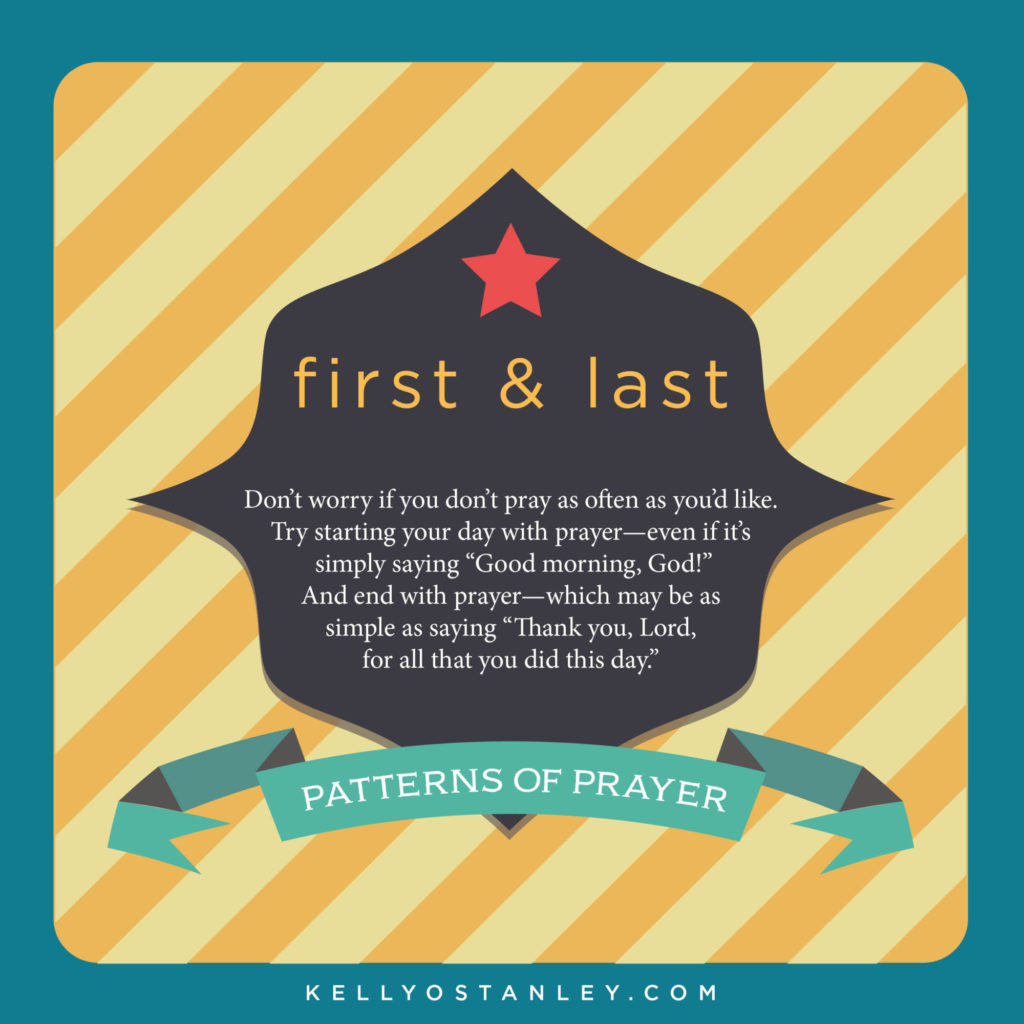 first and last. Don't worry if you don't pray as often as you'd like. Try starting your day with prayer—even if it's simply saying "Good morning, God!" And end with prayer—which may be as simple as saying "Thank you, Lord, for all that you did this day."
What are some of your favorite times to pray or ways to squeeze in more prayer time?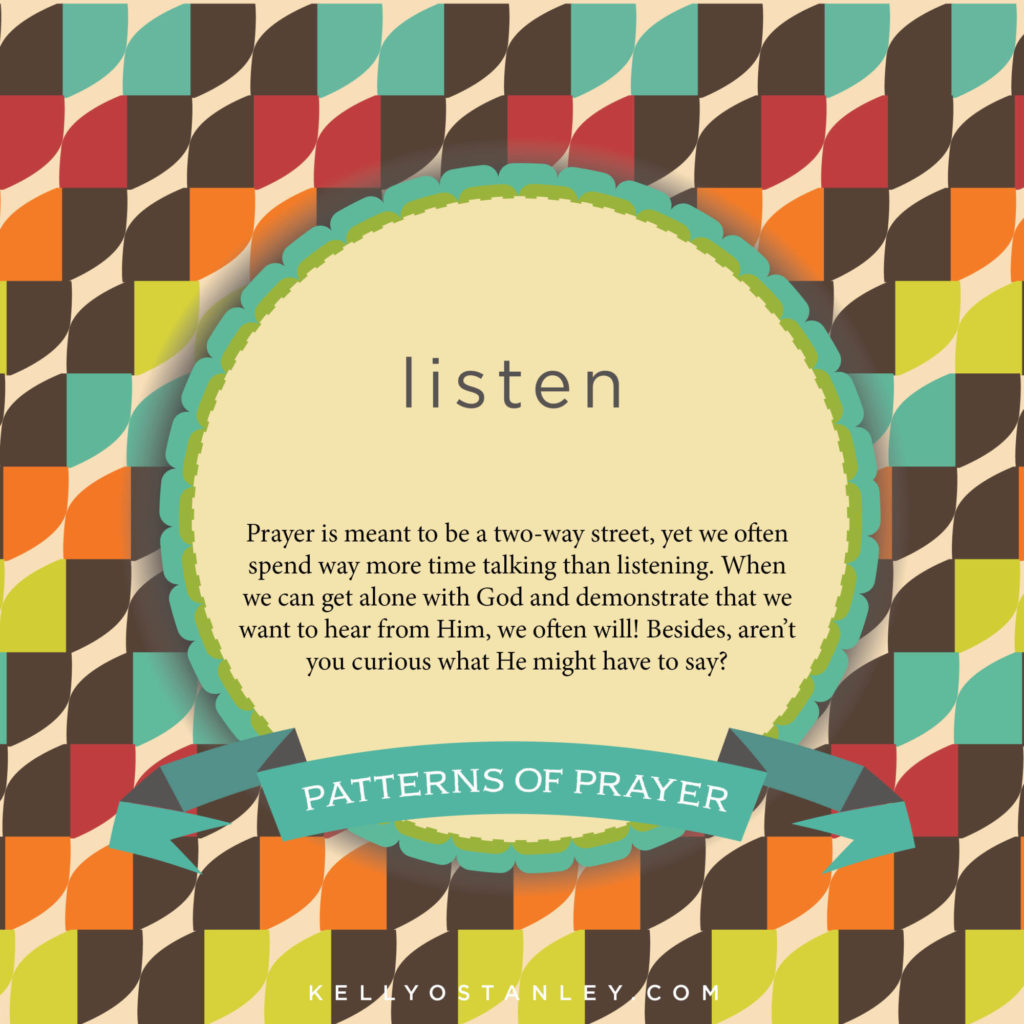 listen. Prayer is meant to be a two-way street, yet we often spend way more time talking than listening. When we can get alone with God and demonstrate that we want to hear from Him, we often will! Besides, aren't you curious what He might have to say?
Is it hard for you to wait to hear from God? Are there prayers you've been waiting for Him to answer for a long time?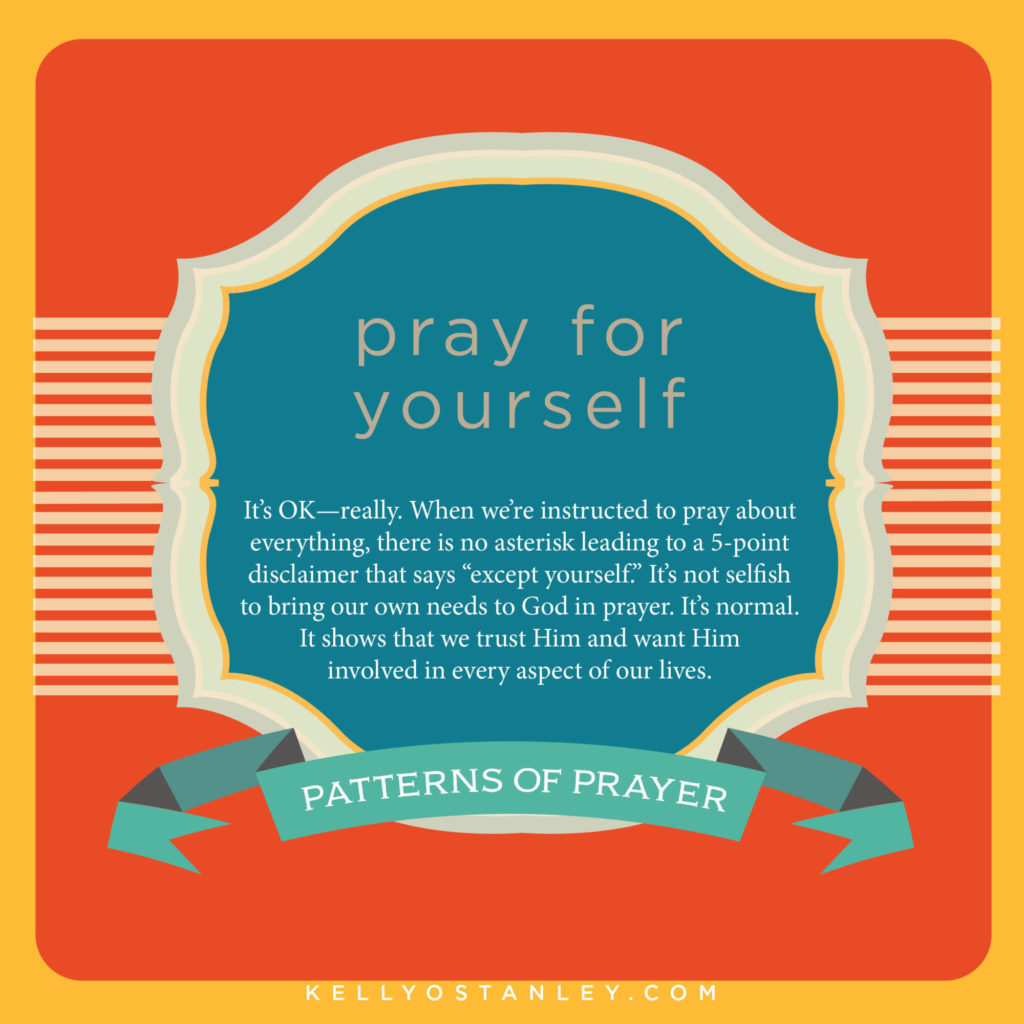 pray for yourself. It's OK—really. When we're instructed to pray about everything, there is no asterisk leading to a 5-point disclaimer that says "except yourself." It's not selfish to bring our own needs to God in prayer. It's normal. It shows that we trust Him and want Him involved in every aspect of our lives.
If you struggle with this, why?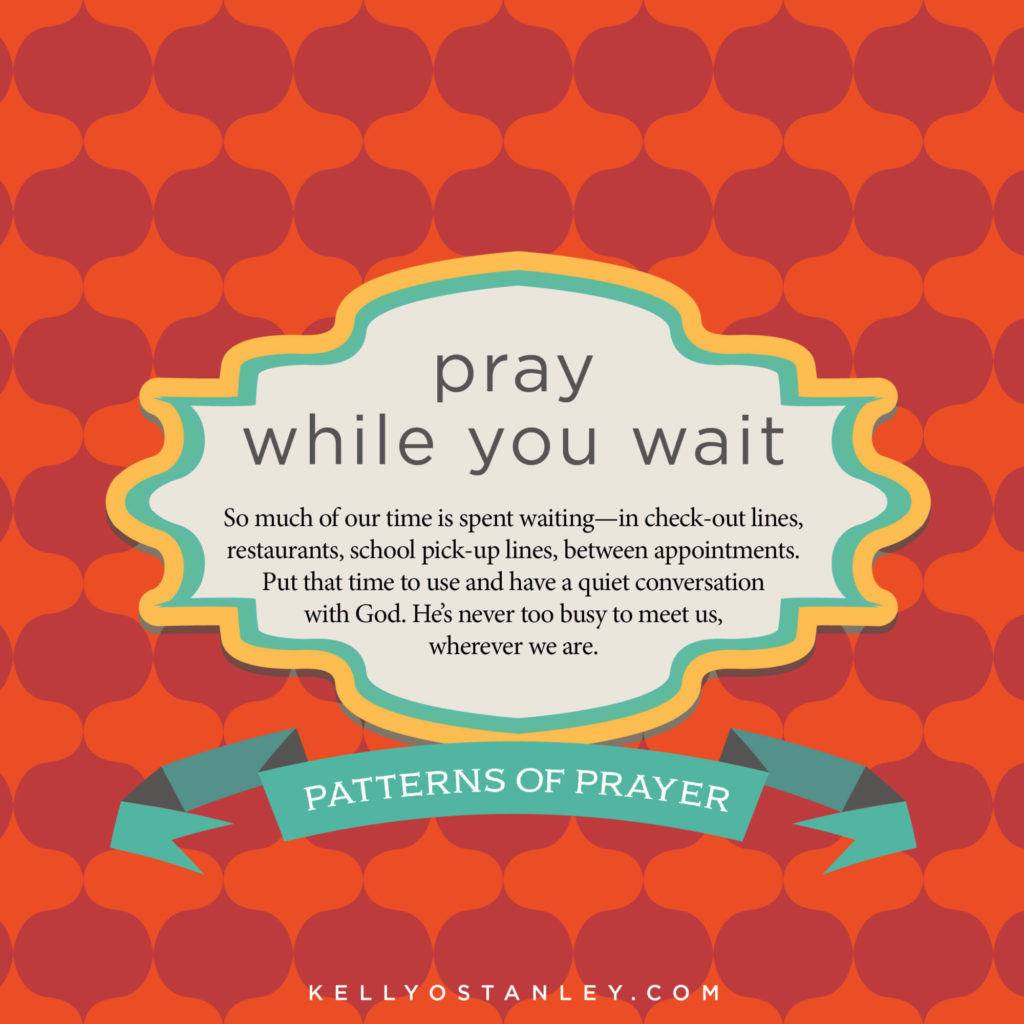 pray while you wait. So much of our time is spent waiting—in check-out lines, restaurants, school pick-up lines, between appointments. Put that time to use and have a quiet conversation with God. He's never too busy to meet us, wherever we are.
What are some unexpected times you've found in your day to pray?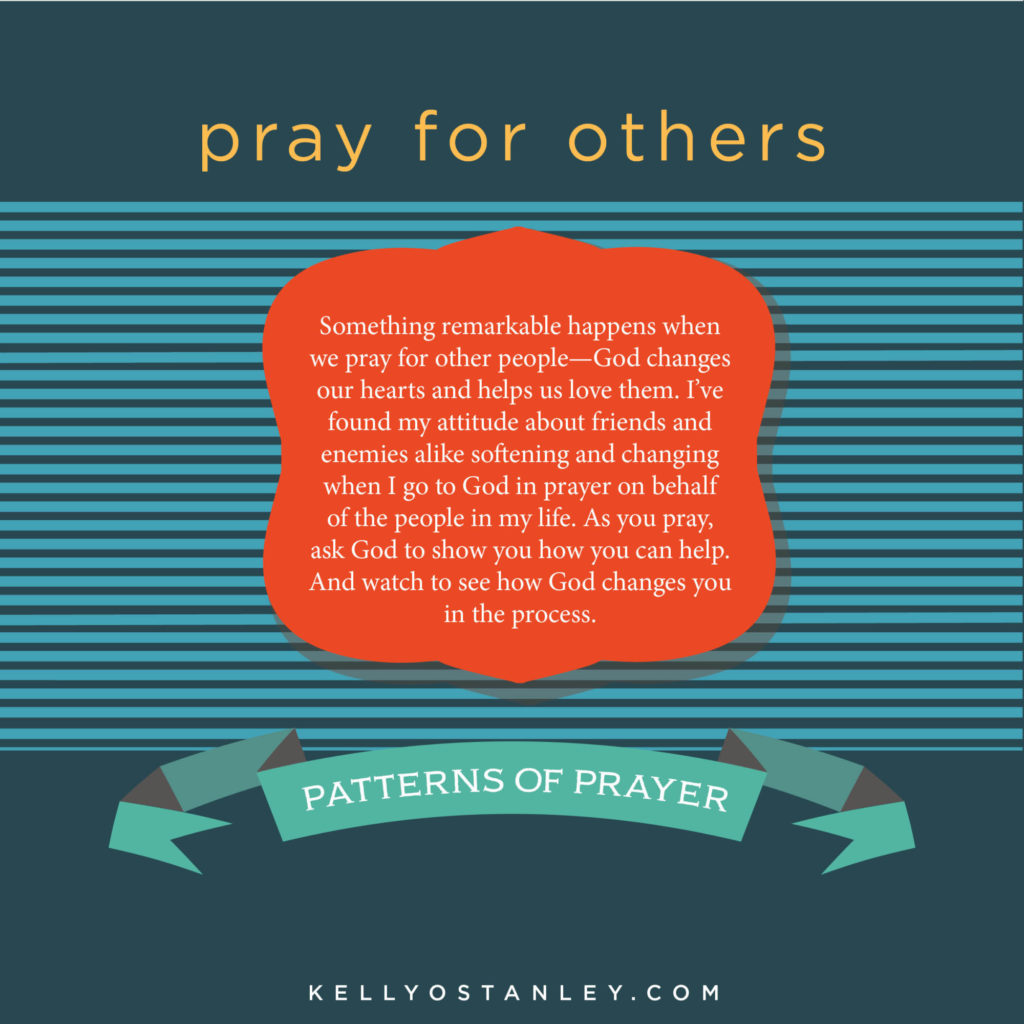 pray for others. Something remarkable happens when we pray for other people—God changes our hearts and helps us love them. I've found my attitude about friends and enemies alike softening and changing when I go to God in prayer on behalf of the people in my life. As you pray, ask God to show you how you can help. And watch to see how God changes you in the process.
Have you noticed a difference in how you feel about someone after you've prayed for them?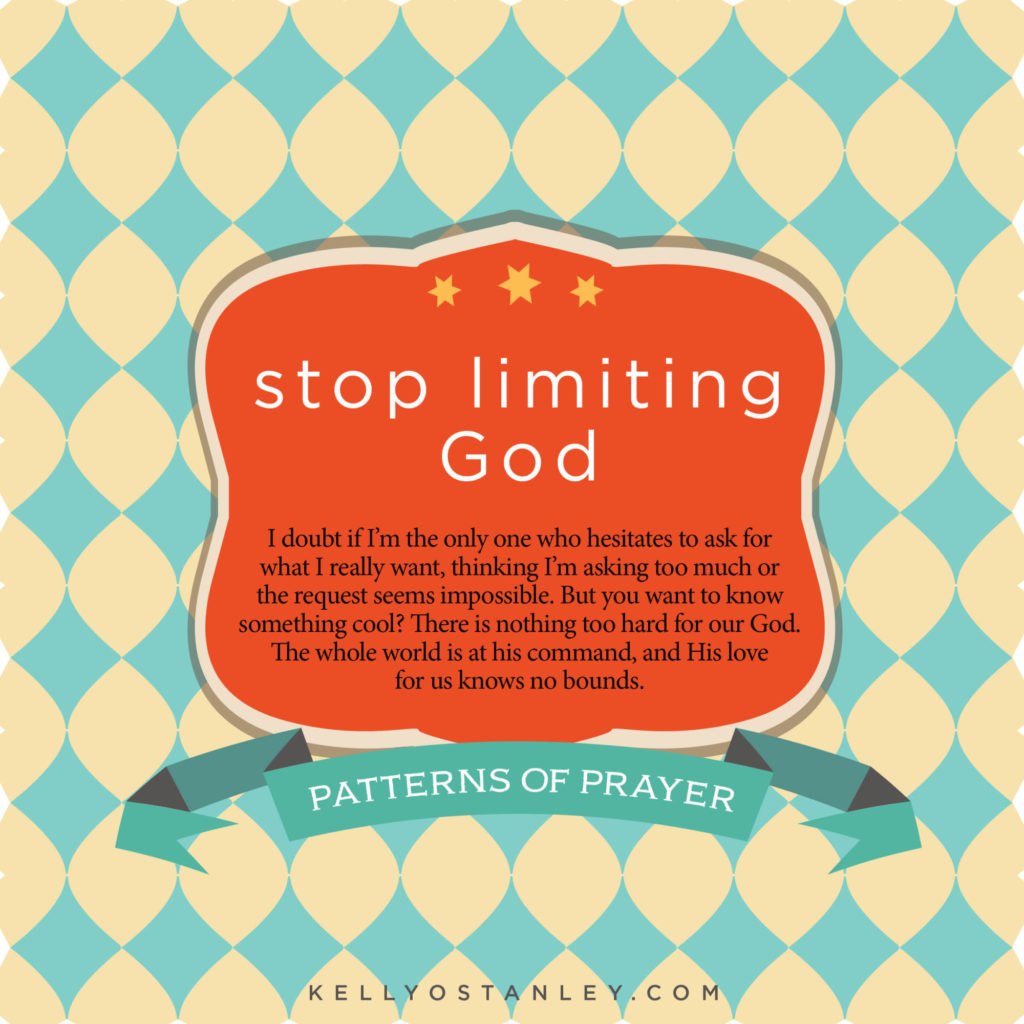 stop limiting God. I doubt if I'm the only one who hesitates to ask for what I really want, thinking I'm asking too much or the request seems impossible. But you want to know something cool? There is nothing too hard for our God. The whole world is at his command, and His love for us knows no bounds.
There are no limits. Why do we act like there are? How do you remind yourself that nothing is too hard for God?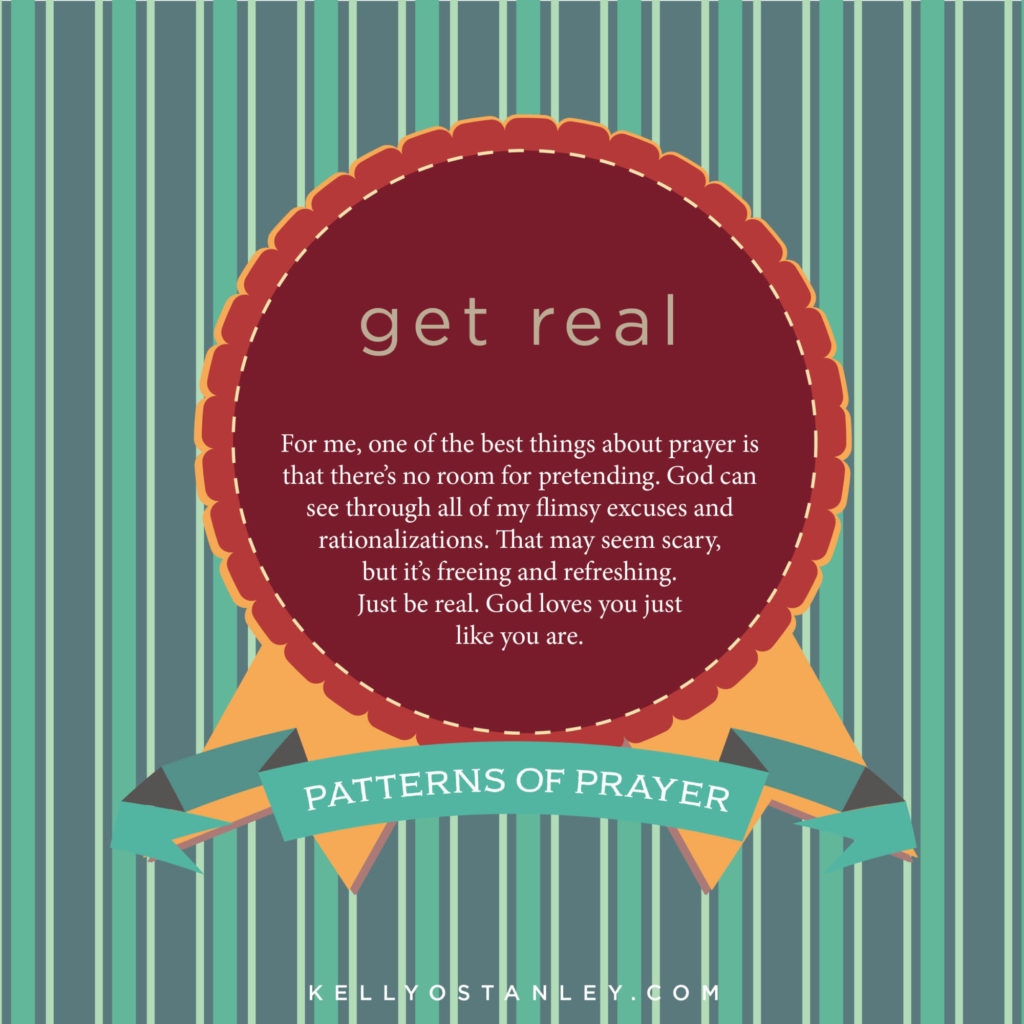 get real. For me, one of the best things about prayer is that there's no room for pretending. God can see through all of my flimsy excuses and rationalizations. That may seem scary, but it's freeing and refreshing. Just be real. God loves you just like you are. 
Isn't it refreshing to not have to be something you're not?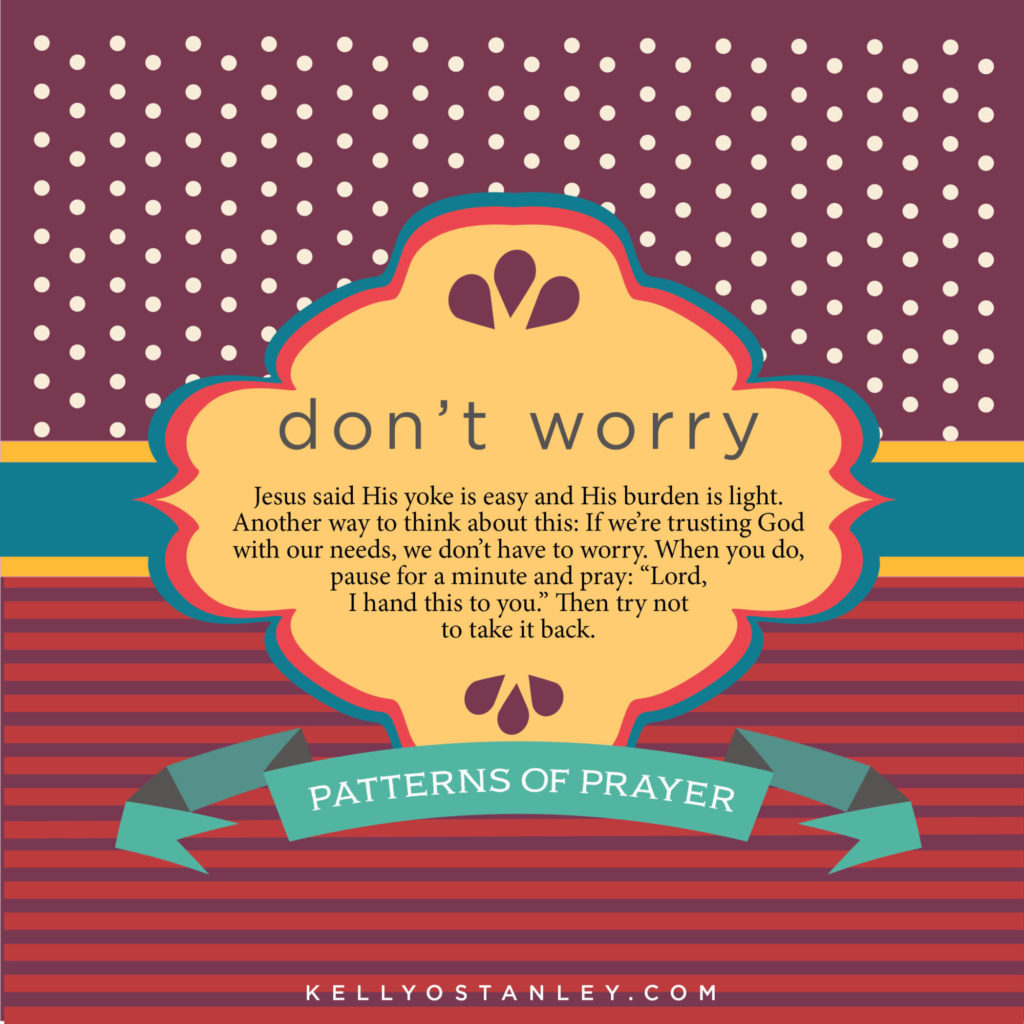 don't worry. Jesus said His yoke is easy and His burden is light. Another way to think about this: If we're trusting God with our needs, we don't have to worry. When you do, pause for a minute and pray: "Lord, I hand this to you." Then try not to take it back.
Do you have a go-to verse when you find yourself focusing on your fears instead of trusting God with them?